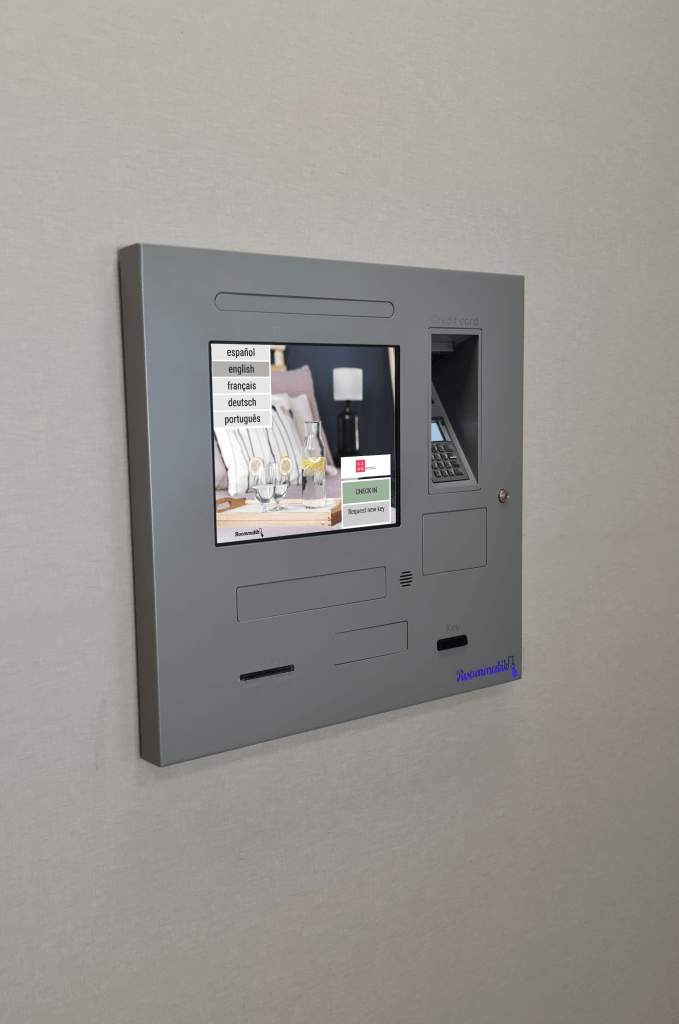 One more M-101 ready to ship.
We could not continue without dedicating a post to our most legendary model of check-in kiosk. Since our beginnings we have been accompanied by this characteristic concept of kiosk adaptable to multiple configurations, with front opening for greater versatility and with the possibility of embedded or surface installation.
We have photographed this check-in kiosk in our facilities, just before preparing it to be shipped to France, a country where we have an increasing presence.
In this case, the customer has ordered us a kiosk for flush mounting, with a special RAL and with the following components:
Touch screen

Credit card payment

Ticket printer
Issuance of proximity cards compatible with the Onity brand
As you can see in the image, this model is very versatile since all the covers that can be seen are used to house different components that can be installed in the future if desired.
In this case, it is striking, for example, that it does not have a document scanner. This is precisely because in France it is not mandatory to register travelers, unlike other countries such as Spain. So, in this case, the customer has preferred to save the investment in this component, having the possibility of installing it in the future.
Another issue to note is the slot cover below the touch screen: it is for conventional keys. Yes, this model supports conventional keys and card keys at the same time or separately, as in the case of the image.
Our new skin, i.e. the new wallpaper design, cannot go unnoticed. This new user interface is specially designed to be very intuitive so that users of Roommatik check-in kiosks, mainly hotel or tourist apartment guests, make their entry without any doubts, on the first time they use the kiosk.
For its design, we wanted to use fresh colors and a coherent layout so that the finger does not have to move from one place to another on the screen to complete all the steps.
But best of all, this design is only one option, as there are several skins to choose from, and we can even custom design the user interface!
If you are interested in finding out more, please feel free to contact us through our mail or phone: [email protected], (+34)986262230