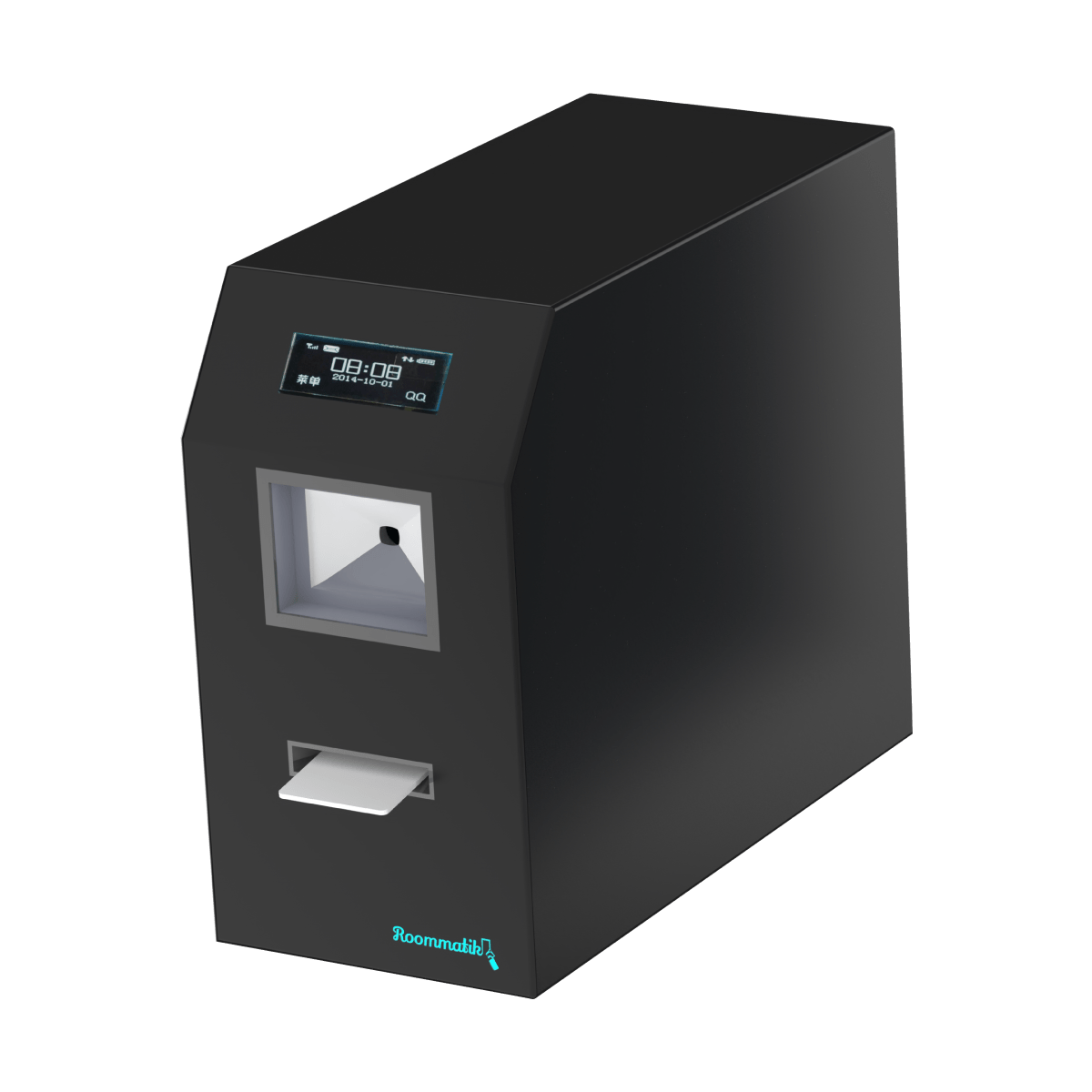 Roommatik XS key dispensers are very simple devices designed to automate the key collection process after booking or at check-in. Some application examples are:
In tourist establishments
The guest can obtain their key in a way that maintains a social distance from the establishment's staff. The delivery of the key can be done by the receptionist or by the approximation of a QR code.
Access control in offices or buildings
Visitors can obtain the card to access the facilities by simply presenting the QR code sent in advance. Permits can also be enabled at the time of arrival.
What makes this terminal special is that it is an encoder or key engraver, but automatic. It is designed to load cards from time to time and it is in charge of dispensing them when the key is being engraved.
Each Roommatik XS automatic key engraver has capacity for 150 cards.
The advantages of such an engraver, in addition to the autonomy of users when picking up their key, is the maintenance of the social distance and the digitization of the reception or access control point of the business.
PROXIMITY CARD OR MAGNETIC STRIPE CARD DISPENSER
Roommatik XS key dispensers are proximity card dispensers, model XS-100 or magnetic stripe card dispensers, model XS-200. In the case of proximity cards, they can encode Mifare or Ultralight cards.
Both models are integrated with the leading access control brands on the market to ensure that the key is dispensed encoded for your electronic locks. No need to change your facility's infrastructure to digitize access.
WIFI CONNECTION AND WEB PAGE FOR KEY ISSUANCE
Installing a Roommatik XS is very simple. They are designed to be placed on a counter or table and the network communication is WIFI, without cables. Therefore, they can be placed anywhere in the reception area or changed as often as necessary.
Roommatik XS key dispensers can be used autonomously by simply opening your local web page. This is also the means used for their configuration, so it is very easy to commission them. In addition, they can be updated online, so that they are always up to date with the latest functionalities.
KEY ISSUANCE FROM PMS OR ERP
Roommatik XS has a very simple API so that management software, PMS or ERP, can issue keys from its interface.
In addition, Roommatik XS automatic encoders implement some of the protocols of the access control brands as a server. This means that they can act as "protocol converters".
So, for example, if a PMS does not have integration with a lock brand, by installing a Roommatik XS you can make this PMS compatible with the actual lock brand installed in the hotel.
This feature also makes it possible for Roommatik XS to be natively compatible with many PMS and ERPs that already encode keys of certain electronic lock brands.
DIGITIZING RECEPTION WITH QR CODES
Roommatik XS key dispensers allow the collection of keys by presenting a QR code. This makes it possible to implement online check-in in an establishment while maintaining the current infrastructure of the establishment, without making large investments.
QR codes can be issued from Roommatik XS's own local website or from third-party applications. Consult us if you want to make your system compatible with us.
Comparte en redes sociales