Counter top kiosk

TO STREAMLINE AN ATTENDED RECEPTION

The universal solution

FOR AUTOMATING THE CHECK-IN/OUT

Self-service reception at hotels

COMPLETELY UNATTENDED CHECK-IN
ROOMMATIK SELF CHECK-IN KIOSKS
Fully automated reception
Installing a check-in machine will provide your property with a 24-hour unattended reception, meeting all the legal requirements in your country.
The installation of a Roommatik check-in kiosk offers  the following advantages: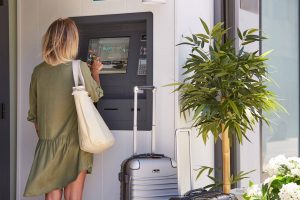 MULTIBRAND KEY DISPENSERS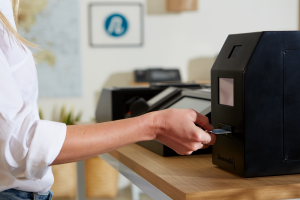 Upgrade to online check-in with ease. Our device is compatible with magnetic or proximity keys, making it the perfect solution for your needs. Implement it now with Roommatik key dispensers.
It features multiple operating modes and possesses unique characteristics that set it apart.
It features multiple operating modes and possesses unique characteristics that set it apart.
S-500: COUNTER TOP KIOSK TO STREAMLINE RECEPTION
The check-in process is split into two steps
The Roommatik S-500 makes reservation lookup, ID scanning, signature, upsells, and payment quick and convenient.
All data is sent to the PMS in real time for an effortless check-in experience.
2. CARD OR WRITSTBAND ISSUANCE
The Roommatik S-500 comes equipped with an RFID writer to complete the check-in process, but it can also be paired with the Roommatik XS key dispenser for added versatility.
Multiple guest registration points and a single key dispensed point can be installed, and its modular design allows for easy reconfiguration to meet changing needs. Enhance your check-in process with the S-500 and XS combination
You can install several guest registration stations and a single key collection point using the Roommatik XS key dispenser. Additionally, due to its modularity, each component can be quickly moved to a different location to suit your needs and requirements at any time.
The Roommatik check-in kiosks integrate with third-party applications.
Roommatik self-check-in machines are integrated with the main PMS and electronic lock brands in the market.
Check our Integrations section to see if your management software and access control system are among our partners. If not, contact us and we will offer solutions to make our check-in machines compatible with your systems.