Fully automated check-in solution

Also for

Thermal resort, SPA, GYM, etc
ROOMMATIK SELF CHECK-IN KIOSKS
Fully automated reception
Installing a check-in machine will provide your property with a 24-hour unattended reception, meeting all the legal requirements in your country.
The installation of a Roommatik check-in kiosk offers  the following advantages: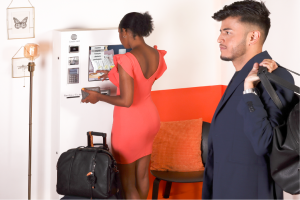 MULTIBRAND KEY DISPENSERS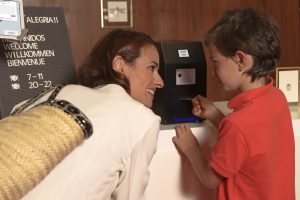 In a nutshell, this compact and unique device changes a QR code for a room-key
This can be used in different scenarios, as it features a versatile design
As a regular card encoder and issuer
As a card encoder integrated with your PMS
For picking up the room key at guest arrival (combined with an online check-in system)
As a card encoding station combined with self check-in kiosks
There is an XS model for contactless keys (XS-100) and also for magnetic stripe keys (XS-200)
All our keys dispensers were designed to be extremely simple and easy to use, compact, lightweight and easy to carry
2 IN 1: SELF CHECK-IN AND ATTENDED RECEPTION
The Roommatik S-500 model allows you to use all the components of a traditional reception, such as a document scanner, signature pad, POS terminal, and card encoder directly from your PMS. It can also work as an auto check-in kiosk when needed. You can easily change operating modes as desired.
"ATTENDED RECEPTION" MODE
The Roommatik S-500 device can be connected to a PMS and works as a bunch of peripherals: id documents scanner, signature pad, credit card payment POS terminal, receipt printer and room-key encoder. All the features in just one single device.
A very compact and guest oriented device
A comprehensive restful API is available, so that it can be easily integrated
In this mode, The Roommatik S–500 device behaves like a self–check–in kiosk: it identifies the reservation, scans the identity documents, collects the signature, charges the pending amount and allows the key to be encoded
Tip: It can be regularly placed on the reception desk and moved to an alternative placement whenever is needed. I.e. managing a group arrival
You can install several guest registration stations and a single key collection point using the Roommatik XS key dispenser. Additionally, due to its modularity, each component can be quickly moved to a different location to suit your needs and requirements at any time.
The best solution for automating or digitizing access control
Roommatik check-in kiosks are integrated with electronic locks and PMS!
We have a long history and expertise in the hospitality sector, which has allowed us to develop strong relationships with the major players in the industry. We're currently integrated with more than 100 partners (and growing!), which provides our clients with a wealth of options and resources.
Some of our partners are listed here (pms – locks). If you don´t find your pms or locks providers on our list, please contact us and we will do our best to become integrated with your current equipment as soon as possible
ROOMMATIK VS OTHER SOLUTIONS
1. There is no need to change your property's current infrastructure for installing our unattended check-in kiosks. Our self-check-in machines deliver both conventional keys (physical) and electronic keys (magstripe, contactless, BLE, etc)
2. Arriving guests can check-in automatically, without the need for a staffed reception desk, a working cell phone, or a host to give them a key or access to the space.
3. We offer a wide variety of self-service check-in kiosks, including wall-mounted, flush-mounted, and surface-mounted models that can be placed on a counter, totem, or floorstanding. We also can offer several kiosk designs for outdoor placement. More than 15 different models are available (and growing!)
4. Our company, founded in 2000, performs mechanical and electronic design, integration of hardware components and also software development. This gives us great flexibility to adapt to special projects or to offer customized solutions. We are dedicated to providing the best possible service to our clients and always work to find the best solution for their needs.
WHAT IS THE PRICE OF A SELF CHECK-IN
KIOSK
?
HOW IS THE PURCHASE PROCESS?
If you are interested in digitizing your reception, please contact our sales team. They will guide you and explain which is the best solution for your property.
want to know more about our different models? would you like to evaluate the look & feel and the guest experience? please contact us and we will schedule an online demo.
To find out how much an automatic reception would cost you, get in touch with us, tell us about your needs and we'll send you a comprehensive quote
You can also customize your kiosk model and specific features in our online configurator and we will provide you with a detailed price quotation for your bespoke kiosk